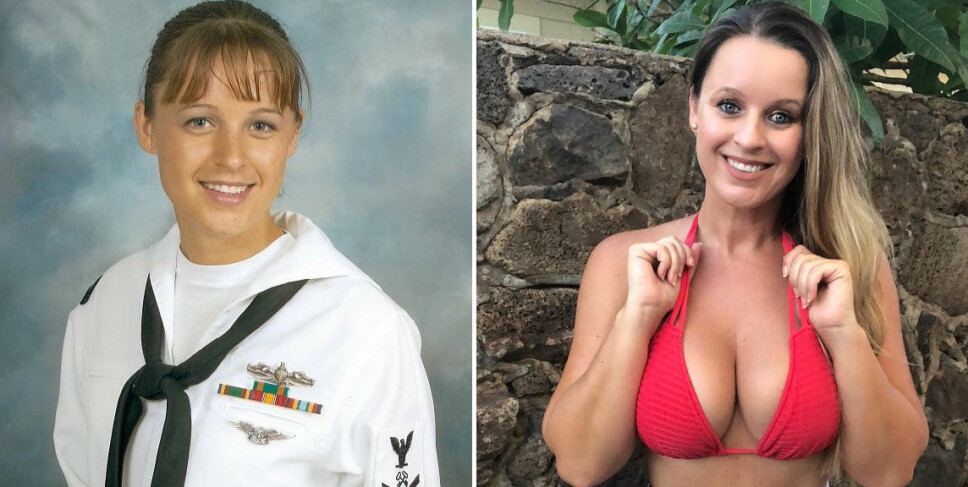 Damer
Janae Sergio levde på gata. Nå kan hun fronte et av verdens største magasiner
Fra å være hjemløs til forsidepike.
De siste årene har herremagasinet Maxim arrangert en konkurranse der de jakter på deres neste forsidepike. Konkurransen er åpen for kvinner, og deltagere sender selv inn bilder for å delta. Side3 har tidligere skrevet og intervjuet den norske Instagram-kjendisen Cecilie Nordahl, som deltok i 2017. Nordahl vant dessverre ikke konkurransen, bare Side3s leseres hjerter.
Nå er Maxim i gang med en ny runde, og blant deltagerne finner man den amerikanske kvinnen Janae Sergio. 36-åringen er veteran fra den amerikanske marinen og arbeider i dag som økonomisk rådgiver for Stillhavsflåten til den amerikanske marinen (U. S. Pacific Fleet). Ved siden av fulltidsjobber, arbeider også småbarnsmoren som modell. Sergio har i tillegg over 41.000 følgere på Instagram, og legger jevnlig ut bilder på bildedelingstjenesten med inspirerende budskap til sine følgere.
For er det noen som vet at livet noen ganger kan være tøft, er det veteranen. Som 16-åring ble Sergio nemlig forlatt av moren på et herberg for hjemløse i Los Angles. Da det skjedde, var det kun én tanke i hodet på den unge piken: Å overleve.
- Jeg vet hvordan det er å ikke ha et hjem, så akkurat det er utrolig viktig for meg, forteller Sergio til Military Times.
Men livets utfordringer gjorde henne ikke motløs. Etter to år som hjemløs, vervet hun seg til den amerikanske marinen. Iført uniform fikk hun endelig fullført high school og ta en bachelorgrad. Etter terrorangrepet 11. september 2001 i New York, har Sergio vært stasjonert i utlandet i to runder.
- Jeg hadde ingen håp for fremtiden. Jeg levde fra dag til dag og forsøkte å finne ut hvor jeg kunne sove om nettene. Marinen ga meg en fremtid og for å kunne etablere meg som en suksessrik forretningskvinne, forteller hun nettsiden.
Sergio avsluttet den aktive karrieren i marinen i 2008. Nå er hun kun tilknyttet marinen som sivilist.
Nå har altså 36-åringen meldt seg på Maxims forsidekonkurranse. Sergio avslører at hun alltid har gått med en drøm om å en dag kunne arbeide som modell.
- Før jeg ble hjemløs, ønsket jeg faktisk å arbeide som modell. Jeg har alltid elsket motebransjen.
Så langt gjør tobarnsmoren gjort det skarpt i konkurransen, og har blant annet fått flere stemmer personer knyttet det amerikanske forsvaret. Hun tror personene som har stemt på henne så langt liker at hun er «ekte» vare - noe også hennes 41.000 følgere på Instagram vitner om.
- Jeg ser kanskje ikke ut som en supermodell. I virkeligheten er jeg bare en helt alminnelig mamma som går på jobb hver dag, kommer hjem og lager middag til familien. Folk ser det at det er ekte. De ser at dette er noen som har kommet fra ingenting og klart seg i livet, tror Sergio.
Foruten et forsideoppslag, får vinneren av konkurransen også 25.000 dollar, litt over 200.000 norske kroner i dagens kurs.
Dersom Sergio vinner, forteller hun Military Times at tanken er å donere deler av beløpet til en veldedigorganisasjon som hjelper krigsveteraner, samt en organisasjon som hjelper hjemløse ungdommer i USA.
Faktisk går deler av overskuddet fra konkurransen til Maxin til en organisasjon som hjelper amerikanske krigsveteraner.